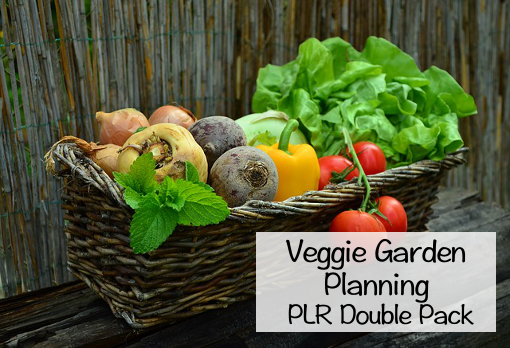 If your audience is hungry for information on how to grow their own healthy and delicious fruits, vegetables and culinary herbs, this value-packed vegetable garden planning double PLR pack is for you! This bundle includes nearly 9,900 words of thoroughly researched and professionally written content that you can share with your audience with confidence.
Here's What You Get:
.
Pack #1: Grow More in Less Space Vegetable Garden Planning (5,208 Words)
The "Grow More in Less Space" Vegetable Gardening PLR Pack shows your readers how to reap the many benefits of growing their own fruits, vegetables and herbs, even if they are short on gardening space.
Work Smarter, Not Harder
Even if space is NOT an issue, these tried-and-true gardening techniques and ideas teach your readers how to increase their garden production by working smarter, not harder.
Each in-depth article (550 – 760+ words) in this bundle features all natural and/or organic growing methods and has been thoroughly researched for accuracy. This means you can rest easy knowing you are sharing quality material with your audience.
Plus, there are lots of money-making opportunities for you to add your own high-quality product recommendations throughout these articles. With the "Grow More in Less Space" Vegetable Gardening PLR Pack, you can give your readers the information they need to plan a successful vegetable garden in a small space, plus help them choose the tools & resources they'll need to make it happen.
The "Grow More in Less Space" Vegetable Gardening PLR Pack Includes:
1. Set Gardening Goals to Increase Small Garden Production (559 words)
2. Succession Planting: Grow More Vegetables in Less Space (632 words)
3. Succession Planting Tips for Success (551 words)
4. Take Your Vegetable Garden to New Heights (624 words)
5. 3 Easy Ways to Extend Your Vegetable-Growing Season (706 words)
6. Must-Have Gardening Tools & Accessories for Small Gardens (671 words)
7. 4 Easy-to-Grow Culinary Herbs (762 words)
8. Stealthy Ways to Grow More More Fruits and Vegetables (703 words)
Pack #2 – Vegetable Garden Planning PLR (4,656 Words)
If you love to cook, growing your own vegetable garden is one of the most rewarding things you can do. This pack of gardening PLR articles was created to help you educate your readers how to get started.

The "Vegetable Garden Planning" PLR Pack Includes:
1. How to Plant a Vegetable Garden in Four Easy Steps (910 words)
2. 3 Must-Know Vegetable Gardening Tips (574 words)
3. How to Build Raised Vegetable Garden Beds (616 words)
4. Heirlooms vs. Hybrid Plants: What's the Difference? (742 words)
5. What is a Kitchen Garden? (608 words)
6. Planning a Productive and Practical Potager (639 words)
7. Deciding When to Plant Vegetables in Your Area (567 words)
Each in-depth article in this series has been thoroughly researched for accuracy. Use these articles to give your readers the kind of detailed vegetable gardening advice they are looking for!
There are lots of ways you can use these articles: Add to your blog, your eNewsletter or compile into a free or paid info-product.
Important Note: These bundles were originally available on KitchenPLR.com. Please check your files before purchasing this package to avoid duplication.
Download Your License Today For Just $19!
This Double Pack of Vegetable Garden Planning PLR Articles is Exclusive to old.kitchenbloggers.com. If you see it sold elsewhere, it is in violation of our terms of sale.