Organic vegetable gardening is fun, relaxing, and rewarding, but it can be challenging to find advice you can trust online. Unfortunately, there are so many myths and misconceptions floating around about safe and effective ways to prevent weeds, control pests, and increase production, it can be hard for new organic gardeners to know where to begin.
This brand new Organic Vegetable Gardening PLR pack will help you become a trusted resource for your readers on this popular topic!
.
Here's What's Included in this Organic Gardening PLR pack: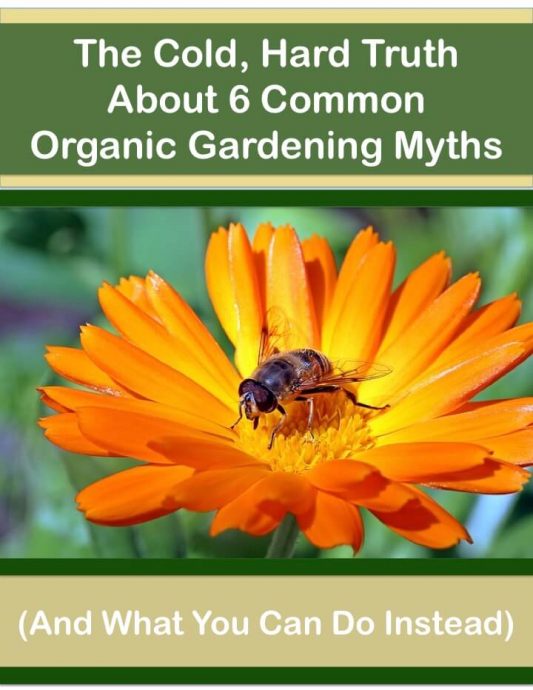 Short Report: The Cold, Hard Truth About 6 Common Organic Gardening Myths (and What You Can Do Instead)

Myth #1: "Organic" Always Means "Safe"
Myth #2: Use These Common Household Ingredients for Effective Weed Control
Myth #3: Use This Common Household Waste to Deter Pests
Myth #4: For Healthier Vegetable Plants, Do This Before Planting
Myth #5: To Improve Drainage in Heavy Clay Soil, Do This…
Myth #6: This Common Household Item is a Must-Have Garden Fertilizer
3,350+ word short report includes fully editable PowerPoint cover image, searchable table of contents, 8 myth-busting pages of thoroughly researched organic gardening content, and a blank resource page where you can recommend your favorite organic gardening tools and resources and/or promote your own products.
8 In-Depth Organic Gardening Articles – 4,636 Words – in .docx format
3 Basic Composting Tips for Your Organic Vegetable Garden – 724 words
4 Chemical-Free Ways to Control Weeds – 541 words
4 Common Organic Gardening Challenges (and How to Overcome Them) – 681 words
4 Ways to Attract More Pollinators to your Organic Vegetable Garden – 589 words
4 Money-Saving Tips for Organic Gardeners – 467 words
4 Ways to Attract More Earthworms to your Garden – 495 words
5 Easy Ways to Help Ladybugs Feel More at Home in Your Garden – 411 words
Start Seeds Indoors in 7 Simple Steps – 728 words
8 Eye-Catching Organic Gardening Tip Sheets* – in PDF, JPG, and easy-to-edit PowerPoint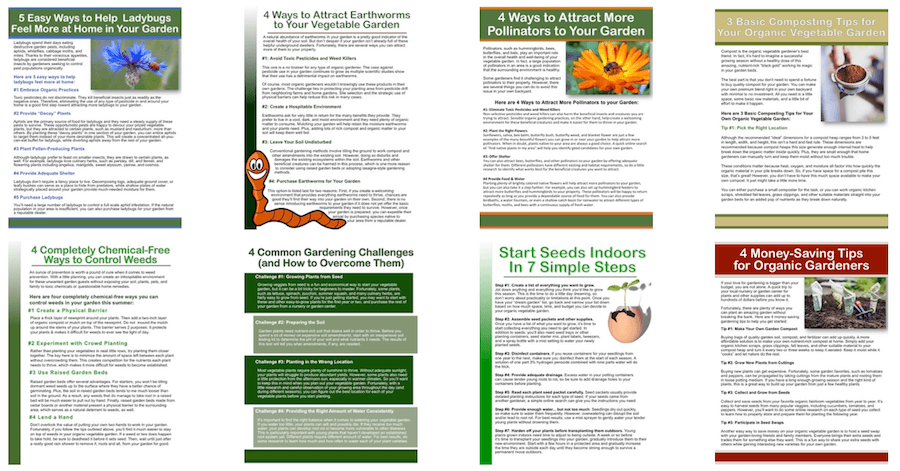 *All Tip Sheets are based on summarized content from the short report and articles included in this package. You can easily edit each Tip Sheet in PowerPoint to add your website, logo, and/or brand colors.
5 Gardening Social Media Graphics:

Tips to Use This Content:
Edit and use the articles as blog posts, newsletter content, and/or for social media updates
Use the short report or tip sheets as a "freemium" opt-in incentive to build your email list
Offer one or two individual tip sheets as the incentive and offer the short report as low-priced paid product
Bundle with your favorite garden-inspired recipes for a truly unique premium guide/cookbook
Create an email autoresponder course where you share an individual tip sheet each week, with the option to purchase the full guide or any other product of your choice.
With the "Organic Vegetable Gardening" PLR Pack, you can give your readers the information they need to grow delicious and healthy vegetables right in their own garden!
Claim Your Copy Today for Just $49.95!
All written content, tip sheet design/layout, and the social media graphic designs are EXCLUSIVE to old.kitchenbloggers.com. This package comes with PLR rights, but does NOT include ANY form of resale rights. That means you can create your own products from this content to sell to your readers, but you may not sell this package "as is" in whole or in part with any form of PLR, MRR, or any other type of resale rights to others.
If you see this package sold elsewhere with PLR or any other resale rights, it in violation of the KitchenBloggers terms of use.