Help Your Readers Get Dinner on the Table Fast with These Done-for-You "Quick & Easy Recipes" Menu Plans!
This ready-to-publish set of "Quick & Easy Recipes" menu plans make it so easy for you to give your readers the information they want in a convenient format that will help them save time and money!
Here's What's included in this Set of Menu Plans …
4 Weekly "Quick & Easy Recipes" Menu Plans with Customized Shopping Lists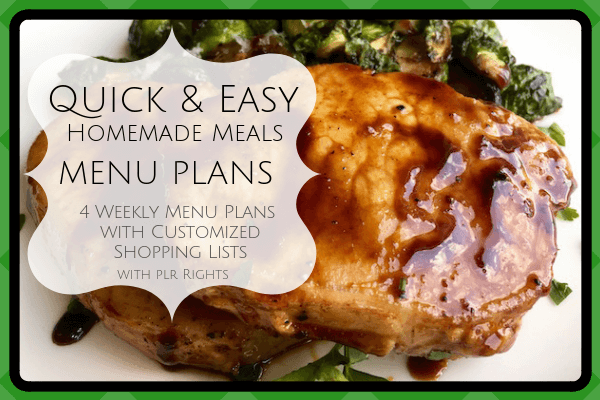 This 4-week set of menu plans includes 32 recipes and 4 customized shopping lists. Each weekly menu plan includes at 6 main course recipes, plus 1 breakfast and 1 dessert recipe. Plus, each weekly plan comes with a convenient, printable shopping list to take the guesswork out of going to the grocery store.
Recipe Guidelines:
These menu plans feature straightforward and easy-to-make recipes
Most recipes can be on the table in well under an hour
Some recipes DO include gluten and refined sugar
Important Note: This set of menu plans does NOT include original photos for the recipes!
Week 1
Hawaiian Chicken Kabobs
Chicken and Rice Salad
Toasted Southwestern Chicken Tortillas
Foil Packet Garlic Salmon
Asian-Inspired Beef & Noodles
Tandoori Chicken
Cinnamon Peach Breakfast Bake
Chocolate Mocha Milkshakes
Week 2
Asian Chicken Lettuce Wraps
Veggie Pasta with Pesto
Coconut Chicken with Brown Rice
"Oh So Easy!" Taco Bake
Chicken Burrito Bowls
One-Pot Turkey Chili
Cheesy Baked Egg Muffins
Creamy Dreamy Mixed Berry Salad
Week 3
Oven Roasted Salmon with Orange-Balsamic Sauce
Caribbean-Inspired Grilled Chicken
Pepperoni & Cheese Pita Pizzas
Minty Arugula Salad with Quinoa
Pickle-Braised Chicken Thighs
Tender Asian Pork with Spicy Tangerine Sauce
Cheese Egg Scramble
Sweet & Savory Brie & Pear Puff Pastries
Week 4
Maple-Balsamic Boneless Pork Chops
Slow Cooker Chicken Chili
Baked Chicken Kiev
Lemon-Garlic Jumbo Shrimp
Super Easy Pan-Seared Rib Eye Steak
Garden Veggie Quesadillas
Black Bean Breakfast Burritos
5-Ingredient Coconut Macaroons
This PLR Package Includes:
4 Weekly Menu Plans – 32 Total Recipes
4 Customized (and Customizable!) Weekly Shopping Lists (in PDF and editable Excel format)
1 Blank Bonus Shopping List (in PDF and editable Excel format)
Ideas to Use This Quality Recipe PLR Content:
Bundle with other "Quick & Easy" recipes to create a free opt-in report + paid cookbook
Create months of blog, eNewsletter, and/or social media content
(e.g., 32 recipes = 2 blog posts a week for 16 weeks!)
Sell as part of a convenient, time-saving menu planning service to your readers
Create popular food videos to increase your online footprint


.
Download Your Copy Today for Just $39!
Important Note: This set of menu plans does NOT include original photos. The featured image on this page is for marketing purposes only.
This PLR content is EXCLUSIVE to old.kitchenbloggers.com and may not be sold or given away with PLR, MRR, or any other resale or distribution rights. You MAY sell this content to your customers for personal use only.