If your audience is hungry for information on how to grow their own healthy and delicious fruits, vegetables and culinary herbs, this value-packed Food Gardening Mega PLR is for you! This bundle includes Three full food gardening PLR packages brimming with thoroughly researched and professionally written content that you can share with your audience with confidence.
Here are the packs included in this bundle: (Full details for each pack are included below)

Best Deal: Get All 4 Bundles Today for Just $49!
Here's What You Get in the Food Gardening Mega Pack:
Pack #1: Grow More in Less Space Vegetable Garden Planning (5,208 Words)
This quality gardening article PLR package shows your readers how to reap the many benefits of growing their own fruits, vegetables, and culinary herbs – even if they are short on gardening space.
The "Grow More in Less Space" Vegetable Gardening PLR Pack Includes:
1. Set Gardening Goals to Increase Small Garden Production (559 words)
2. Succession Planting: Grow More Vegetables in Less Space (632 words)
3. Succession Planting Tips for Success (551 words)
4. Take Your Vegetable Garden to New Heights (624 words)
5. 3 Easy Ways to Extend Your Vegetable-Growing Season (706 words)
6. Must-Have Gardening Tools & Accessories for Small Gardens (671 words)
7. 4 Easy-to-Grow Culinary Herbs (762 words)
8. Stealthy Ways to Grow More More Fruits and Vegetables (703 words)
Pack #2 – Vegetable Garden Planning PLR (4,656 Words)
If you love to cook, growing your own vegetable garden is one of the most rewarding things you can do. This pack of gardening PLR articles was created to help you educate your readers how to get started.

The "Vegetable Garden Planning" PLR Pack Includes:
1. How to Plant a Vegetable Garden in Four Easy Steps (910 words)
2. 3 Must-Know Vegetable Gardening Tips (574 words)
3. How to Build Raised Vegetable Garden Beds (616 words)
4. Heirlooms vs. Hybrid Plants: What's the Difference? (742 words)
5. What is a Kitchen Garden? (608 words)
6. Planning a Productive and Practical Potager (639 words)
7. Deciding When to Plant Vegetables in Your Area (567 words)
Each in-depth article in this series has been thoroughly researched for accuracy. Use these articles to give your readers the kind of detailed vegetable gardening advice they want!
NOTE: Packs #1 and #2 are not available individually. They are available together in the Vegetable Gardening Double PLR Bundle.
Purchase This Double PLR Pack for Just $19!
Pack #3 – Culinary Herb Gardening PLR
Most culinary herbs don't require a lot of maintenance once you get them planted, so you don't need a green thumb to enjoy abundant harvests all season long. Plus, fresh herbs are a healthy way to add an extra punch of flavor to your favorite recipes – without adding a ton of extra calories or artificial ingredients.
Now you can show your readers how EASY it is to enjoy the delicious and healthy benefits of growing culinary herbs at home with this high-quality Culinary Herb Gardening PLR pack.
Here's What is Included:
18 Page Visual Report – 5,200+ words – in both PDF and easy-to-edit PowerPoint.
Report includes cover image, table of contents, 15 pages on popular culinary herbs, and a resource page where you can recommend your favorite cooking and gardening tools and resources or promote your own products.
The culinary herbs included in this KitchenBloggers exclusive report are:
Basil
Chamomile
Chives
Cilantro
Dill
Echinacea
Fennel
Lavender
Mint
Oregano
Parsley
Rosemary
Sage
Stevia
Thyme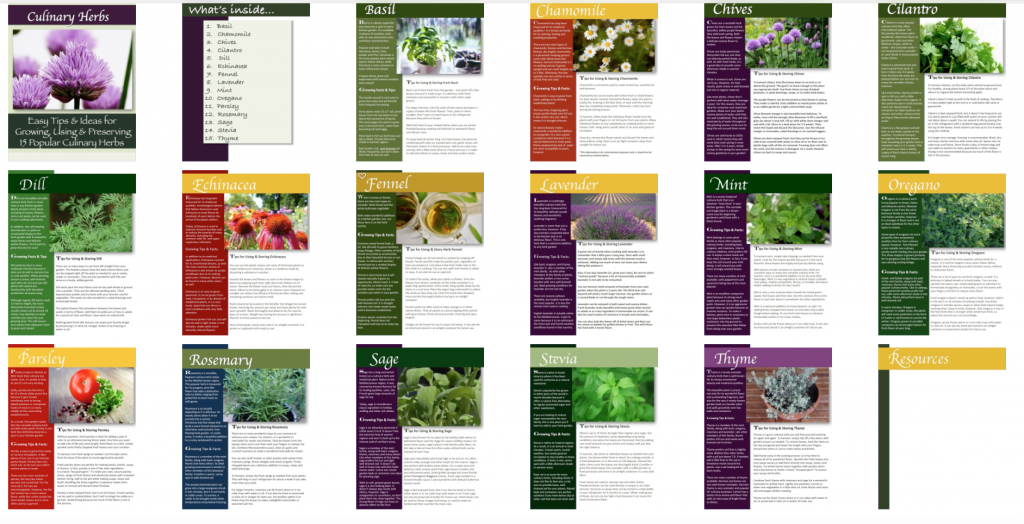 Use this report as a "freemium" opt-in gift to help build your email list – or better yet, offer one or two individual tip sheets as the incentive and offer the full report as premium content. You could also create an email course where you share an individual tip sheet each week, with the option to purchase the full guide at any time.
15 Individual Tip Sheets on Popular Culinary Herbs – available in PDF, easy-to-edit PowerPoint and .jpg format for easy branding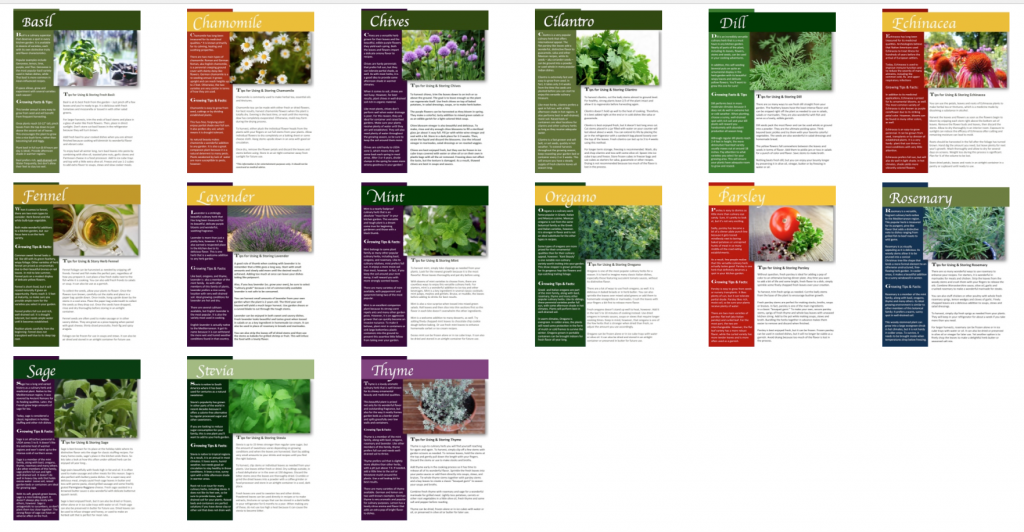 NOTE: These tip sheets are identical to the pages inside the report. They are broken out as individual files to give you greater flexibility in how you distribute this material.
Full report text in both Word and Text format – featuring the content from the visual report. Share this material on your blog, in your newsletter and with your social media followers. (5,200+ words)
Purchase This Individual Package for Just $20!
Package #4 – Tasty Tomato Gardening PLR Pack
Growing and preparing your own vegetables is a fun and rewarding experience. There is something so satisfying about digging in the dirt and watching your own garden-fresh vegetables develop over the warm summer months… and there is nothing quite like the exquisite taste of just-ripe tomatoes fresh off the vine.
This high-quality pack of tomato gardening PLR articles, photos, and infographic was created to help you educate your readers about this fun and rewarding hobby.
Here's what is included:
1). 8 Tomato Gardening Articles
– 3 Great Tomato Varieties for Container Gardens
– Organic Methods to Control 3 Common Tomato Pests
– How to Grow Tomatoes from Seed
– Indeterminate vs. Determinate Tomato Plants: Which is Right for Your Garden?
– 5 Great Tomato Varieties for Perfect Homemade Sauces (Infographic)
– 7 Organic Gardening Tips for Your Best Tomato Crop Ever
– Improve the Quality and Yield of Your Tomatoes with Soil Amendments
– How to Banish Blossom Rot
Each in-depth article in this bundle features all natural and/or organic growing methods and has been thoroughly researched for accuracy. This means you can rest easy knowing you are sharing quality material with your audience.2.
2). 20 Gorgeous Tomato-themed Photos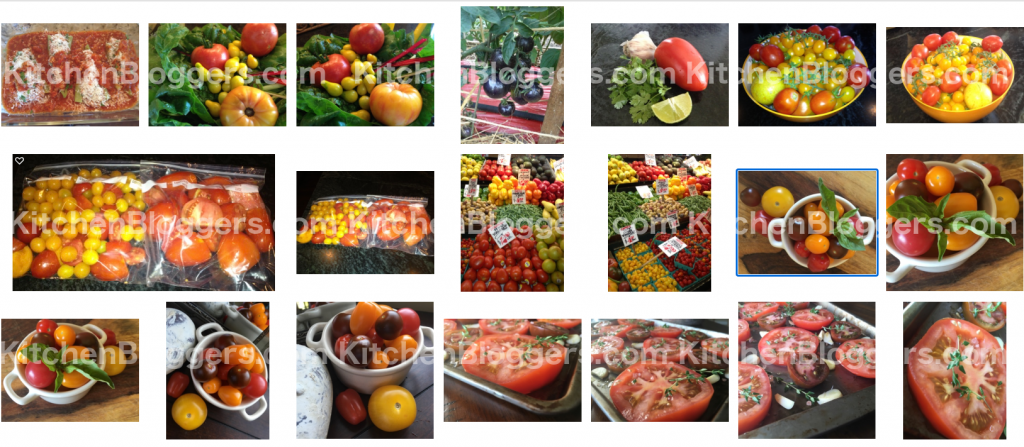 3). 10 Bonus Images

4). High-Quality Infographic Five Great Tomato Varieties For Perfect Homemade Sauces

You can brand with your site name, then share on social media or offer as a sign up freebie to grow your email list. Available in .jpg format.
This custom graphic is EXCLUSIVE to KitchenBloggers – if you see it sold elsewhere with PLR or Master Resale Rights, it is being done illegally.
5.) Recommended Product List to Monetize this Package
Need ideas to make money from this ready-to-publish content? We've got you covered!
There are lots of money-making opportunities for you to add your own high-quality product recommendations throughout these articles. We've made it even easier with a list of relevant products you can promote right away – just drop in your affiliate links and hit "publish."
Purchase This Individual Package for Just $20!
*******************
BEST Deal: The Complete Food Gardening Mega PLR Bundle
Best Deal: Get All 4 Bundles Today for Just $49
We now accept PayPal and Stripe for secure online credit card payments
*The Food Gardening Mega PLR Pack is EXCLUSIVE to KitchenBloggers. This package comes with full PLR rights – meaning you can edit and publish this content under your own name. You may also edit, bundle, and sell (or give away) this material to your readers as a new finished product for their personal use only.
However, this product does NOT come with any form of resale or other distribution rights. It may NOT be sold on other PLR OR MRR sites or added to PLR site memberships as bonus or premium content.